TPG - The Platformer Game POC
EDIT : I will no longer be working on this game. The computer that I used to make it with recently got broken. This project is now finished. I apologize for anyone who wanted more from this. (6/12/2018) - Orion Bohrer
------------------------------------------------------------------------------------------------------------------------
Hello. This is a project that i have been working on for 4 days now. (Current date : 9.7.17) Today is the ??? day. This project will be updated frequently. When I am making this, i will not be using tutorials. The total versions of the game are listed here:
Version 1.1- Updated whole map, UI , (NO MULTIPLE WEAPONS, ONLY BASIC BULLET, NO WEAPON BAR), dirt piles on UI , were added. Here are some screenshots from that version.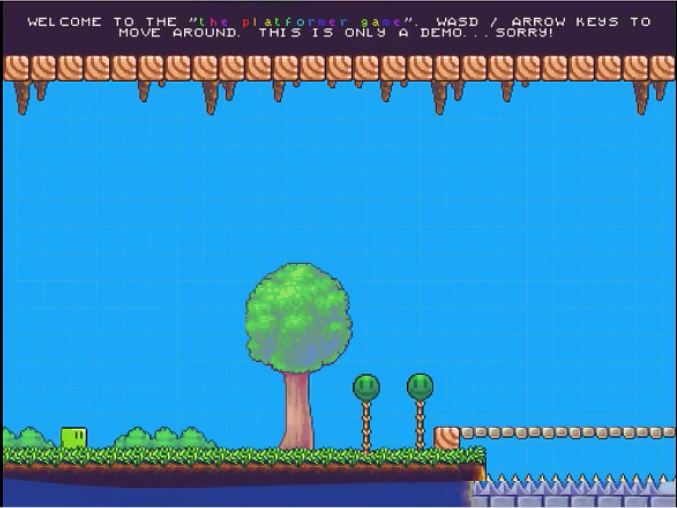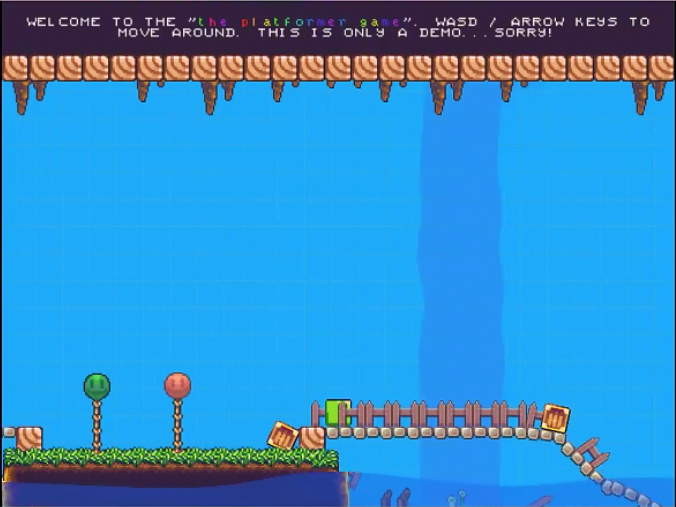 Version 1.2 - No memory, screenshots, or anything from this version. I can tell you that it existed though! removed dirt piles from UI, added more text to UI...
Version 1.3 - , multiple bullets , UI 1.3 - 1.4 version made , breakable crates , original website release , logo made ; never used.

A video was made showcasing 1.3, and I decided it to show you!
Version 1.4 : More bullet types , smoother transitions , area for bullet pickups , basic bullet pickup added , BIG BOX added , multi-bullet added ; no video made :(
Version 1.4.7 (CURRENT): Widescreen , full screen button , TV overlay , expanded level added.
Version ??? (NO NAME CURRENT) : WORK IN PROGRESS MUSIC, Level Select, Red Guy , Spike Head were added.
PLANNED RELEASES

<VERSION 1.5> flare bullet pickup fade out , make bullets face you when you are in the other direction , better skybox , polished player sprites , sound effects , expanded new levels , will be added.
That seems to be about it! feedback is needed!
More images from early early VERY early engine tests.
Like...2 years ago kind of early.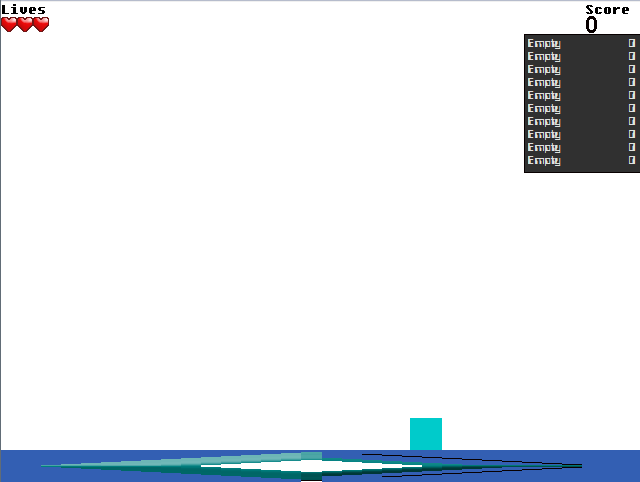 This WAS the original engine made in NOT Construct 2. The original engine was made in Multimedia Fusion 2. The original engine had a heart system, which i plan? to do in my game.